SOLD OUT!!!!! Get your dancing shoes dusted off….the ceilidh is back! Hands Across Band will once more put us through our paces at Whitkirk Community Hall. You can get tickets by contacting a committee member or sending a message to fotnp2019@gmail.com or use the online link (there is a slight delay when you click on pay but you will get an e-ticket which YOU MUST BRING ON THE NIGHT). Tickets are on sale from 15th August 2022. Hurry because places are limited…..we need room to dance!!!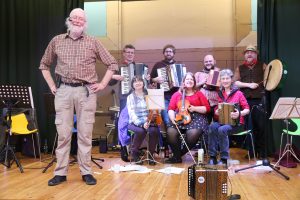 £15 for non members
£12 for members (up to 4 tickets only)
£8 for a child under 14 years of age
Food is included in the price and hopefully we can cater for vegetarian, vegan and gluten free folks. (A licensed bar and teas/coffees are available…..but those are extra.  We will also have a raffle in aid of the Scooter Fund.